Hot Products:Trifluoromethanesulfonic Acid, Trifluoromethanesulfonic Anhydride, Potassium Trifluoromethanesulfonate, Lithium Trifluoromethanesulfonate...
Trifluoroacetic Acid
CAS.NO.: 76-05-1
M.F: C2HF3O2
Assay: 99.5%
Package: 200L/DRUM
M.S: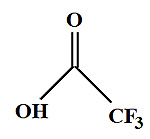 M.W: 114.02
EINECS NO.: 200-929-3
APPEARANCE: colorless liquid, acrid smell, hygroscopic, smokiness, strong but non-oxidizing acid.
USAGE: widely used as intermediate in medicine and agricultural chemical, biochemical reagent, organic synthesized reagent, catalyst and solvent.